Vratiti se kao stablo bilo bi dosta fora, kao da iznova odrastam u parku Althea, ali nije da ću to naglas reći jer, čovječe, ne možeš ići okolo i govoriti ljudima da želiš bit stablo i očekivati da će te shvaćati ozbiljno.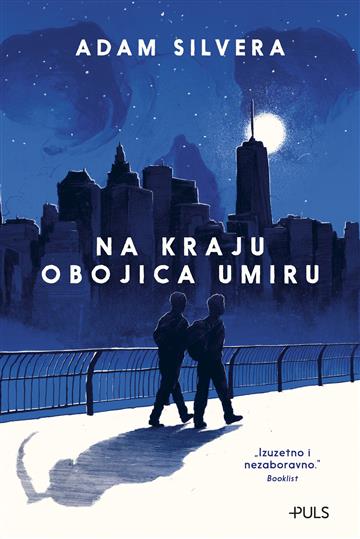 Mislim, ne kažem da određeni ljudi zaslužuju umrijeti, čak ni Adam Silvera, ali ova dvojica baš nisu zaslužila. Da, spoilat ću vam – zaista obojica na kraju umiru. Postoji poseban krug pakla za ljude poput Adama Silvere (stvarno, tko još piše knjigu kako bi ubio dva gej dječaka?), ali što na kraju mi imamo iz svega ovoga?
Na kraju obojica umiru je memento mori tip knjige koji te podsjeća da ćeš umrijeti bez obzira na to jesi živio ili nisi – ili volio, kad smo već kod toga. Ako ne i više od podsjetnika… Roman ima na svoj način asertivan karakter, čak nasrtljiv, u nastojanju da što bolje ilustrira smrt u svakojakim svojim oblicima te činjenici da možemo biti puno sretniji u životu samom silom volje – u slučaju ove knjige i ova dva lika, gurajući se prema onome što znamo da je dobro i da nam može donijeti veselje itd., plus srezivanjem, pa, sranja. Doduše, Silvera je likovima dao i keš, pa umjesto da se Mateu i Rufusu posrećilo jedino tako što su pronašli super posljednje prijatelje (jedan drugoga, naravno), posrećilo im se i što nisu morali pljačkati banku; međutim, tim više progovara o tome koliko se danas sreća veže uz novac, odnosno koliko se nesreća veže uz nedostatak novca. Ali na stranu sitnice, Silvera jako lijepo dočarava i fenomen umiranja i čaroliju ljubavi, kako prijateljske i obiteljske, tako romantične, te koliko nam je potrebna u životu kako bismo zaozbiljno bili ispunjeni.
Knjigu stilsku nisam previše doživljavao, što valjda znači da nije loše napisana, jer bih u suprotnom već davno bio napisao da je užas; retrospektivno, knjiga je pisana jednostavnim stilom bez previše ukrašavanja i mudrovanja kako i priliči prvom licu koje se indirektno, ponekad, čini se, čak i direktno obraća čitatelju; Mateo i Rofus odlični su naratori, što će reći da je Silvera dobro pogodio glasove, što – iz iskustva znam – zna biti problematično, jer neke glasove ne mogu svi pisci pisati itd. Bilo je tu finih izjava, zadnja rečenica knjige je tako dobro pogođena da me oborila na dupe…
A što se fanboy-strane ove recenzije tiče: ajmeeee… O. K., ne čitam često ovakve knjige, ali, brate, i ja sam se zaljubio. Svako je slovo ovog odlomka kompliment Silveri, da se razumijemo, jer je uspio u stvaranju izuzetno simpatičnih likova… doduše, tovi ih kao svinje za klanje, ali to na stranu… Nije lako napisati uvjerljive likove za ovakve knjige, i okej, ponekad malkice karikira pa se čini malkice, pa, ako ne nevjerojatno, onda slabo vjerojatno, ali pretežito manipulira likove skroz uredno, štoviše, jako dobro, u svakoj misli, riječi i djelu. I sporedni likovi su sasvim okej, ali Mateo i Rufus su zaista jako dragi, dobro napisani likovi. I zaljubio sam se.
Negdje piše da je ovo najbolja knjiga za mlade ikada po nekim stranica – okej, budalaština je budalaština, čisti marketing, ali da vam kažem. Ako postoji najbolja knjiga za mlade, a ne postoji, onda Mateo i Rufus nisu jako daleko. Naravno da nisam sve spomenuo, jer u trenutku kad ovo pišem, mozak mi nije u svojem najboljem izdanju, ali likovi su za pet, stil je skroz okej, priča je izuzetno dobra (jesam li uopće spominjao priču? jer zaista je jako zanimljiva, dobro osmišljena i zabavna) – sve ovo s Agencijom smrti, aplikacijom Posljednji prijatelj itd. zvuči suludo, ali zabavno, i ono što je najbitnije, ne razmišljaš o tome koliko je suludo dok čitaš, što valjda znači da je dobro upleteno u priču… Ma, gle, knjiga je ultra šarmantna. I stvarno čovjek zavoli ove likove, zadnja rečenica u knjizi samo zapečati stvari i to je to od mene, valjda.
(I dalje su mi Aristotel i Dante iz Aristotle and Dante Discover the Secrets of the Universe draži, na tu sam knjigu – čitajući je, usput budi rečeno, preko mobitela, a to nikad ne radim – suze do zadnje prosuo, a nitko čak ni ne umire. Ali ovo zaista vrijedi pročitati, u svakom slučaju.)
U obitelji se možda rodite, ali u prijateljstva svjesno uđete. Za neka otkrijete da ih treba napustiti. Druga su vrijedna svakog rizika.